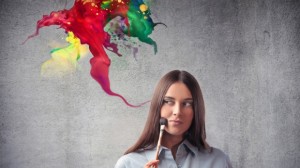 The creative process is a valuable one, not just for achieving important works of art, but for the effect that the process has on the human mind. Without even exerting cognitive effort, the creative process opens up our minds and gives us the ability to examine our lives from new perspectives. Psychologist, addiction specialists and mental health counselors highly recommend that anyone struggling with a mental disorder or a case of addiction engage in the creative process to reap its mental health benefits.
The reason that the creative process is so beneficial to the human psyche is that it allows us to engage in a part of our brain that often gets neglected. Every person is instilled with creative capacity. Some people only use it when necessary while others make an entire lifestyle out of it, but every single person possesses this ability. Deliberately taking on a creative project may be in the form of drawing, painting, collaging, ceramics, music composition, writing or a great many other artistic ventures. Any one of them connects a person to their creative abilities and enables their expression of them.
This built in creative nature is not accidental. It is a healing center in the brain. People only willingly engage in creative projects when they are inspired. Even if the inspiration is minimal, for example, when shortening the process of a job duty at an unfavorable work position. It still always involves the innovative capacity of the brain. Therefore, using the creative part of the brain is always beneficial to the individual because it is an optimistic act. Even artists who suffer from depression and create depressing art are still ultimately acting in optimism because it requires optimism to believe that creating art will benefit anyone at all.
The truth about the benefits of the creative process to mental disorders and addiction is in the studies. If you are struggling with the negative effects of an addiction or a mental disorder, considering taking up a creative hobby, such as drawing or painting!